Update: It's been 15 days of breathless up and down headlines from the financial media since I first wrote this article, and the stock market is STILL trading sideways. Take a look at three months of the Dow.
The stock market often trades "sideways" as it consolidates after moves up or down. This is very common after big run-ups or drops, as well as when the economy is sort of waiting to see what happens.
Of course, the stock market doesn't literally trade sideways with the S&P 500 chart moving to the right as some sort of straight line. Instead, the market goes up and down, sometimes daily, sometimes over a period of a few days, all with the eventually outcome of having not moved up or down much at all. However, that doesn't make for a clickable headline for financial reporters and financial news sites. So instead, we see things like this from Marketwatch.
Here we see not that the stock market is trading sideways here, but rather that investors are keeping a close eye on plans for more sanctions on Russia and remarks by Federal Reserve guys. I guess that makes for a better money news story than, "Nothing to see here."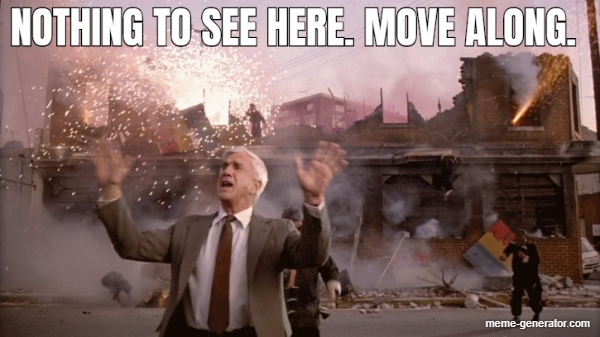 If you aren't trying to generate a headline for today, it actually looks like the stock market hasn't done much of anything over the last five days. Follow the yellow arrows to get a feel for what happened each day, but check out that purple arrow to see the real story of the stock market these last few days.
The markets are trading sideways. This makes perfect sense. Many financial analysts thought the markets were being too optimistic and were overpriced toward the end of 2021. When the market gets too far ahead of itself, it can crash or trend back down. However, it sometimes pauses to collect itself by trading sideways. This is called consolidation.
In fact, since we are here, we might as well take a quick peak at the year-to-date chart, where you will see a real move down from around 16,000 at the start of the year, to around 14,00 or so. But, since January, it's all a bunch of noise as the markets trend sideways.
This chart is making my point, but it might a little too on the nose. The purple line goes straight across from the end of January to now. Generally speaking, however, sideways will usually mean "approximately straight," not necessarily exactly sideways.
How To Invest In a Sideways Market
Anyway, as always, a well-diversified portfolio tailored to your risk tolerance and goals is the best way to save for the long-term. If you're doing some shorter length trades with additional funds, as always, my philosophy is to find companies you like that pay you to hold their stocks via dividends. — You might need to get off the NASDAQ to find most of those.
Check out my review of Plynk.
2022 Taxes Due
Have a good first week of the second quarter, and don't forget your taxes are due in 2022 on April 18 because Washington D.C. observes Emancipation Day on April 15 this year. Then, of course, the government isn't open on the weekend, so April 18th is the due date for taxes in 2022. — Fun fact: for those of you in Maine or Massachusetts, your taxes are due on April 19, because of Patriots Day.
So, lots of fun trivia for the 2022 tax due dates.
Don't forget if you want an extension to file your taxes, you can get an automatic extension without any reason at all by filing a Form 4868 on or before your above due date. (Remember, that the money you owe is due on the due date no matter how many extensions you get, so send in some cash if you expect to owe.)
Don't forget my information about WalletHub.